2021 – William "Bo" Hagaman & Family
William "Bo" Hagaman served in Operation Desert Storm with the 1st Armored Division. He was deployed to Saudi Arabia where he sustained a life-altering injury to his back. After his enlistment, Bo had his first of 14 back surgeries. Subsequent to leaving the Army, Bo received a degree in Computer Science. In 2008, he had to stop working due to the pain from his back. He then found hobbies and a love for volunteering for his kids' extracurricular activities. In 2014 he became heavily involved with volunteering for the local veterans – joining the VFW, driving the DAV van for the VA, and also volunteering at many community events including our own Harger Utility Charities, Inc. Sporting Clays Tournaments.
2020 – SFC Eric Hoover & Family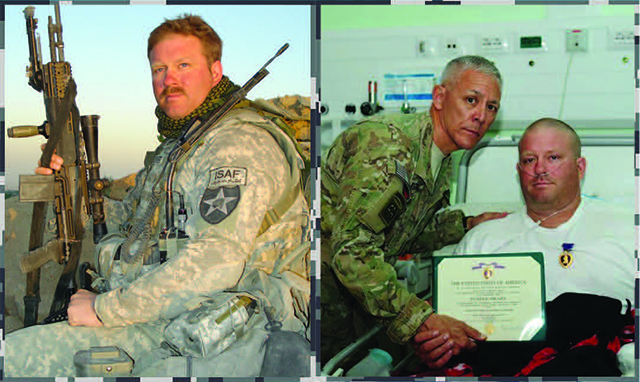 Our 2020 beneficiary is SFC Eric Hoover who retired from service in July 2018 after serving 26 years. SFC Hoover joined the Marine Corps in 1992 where he served with the 2nd Recon Battalion 2nd Marine Division during numerous operations. After being honorably discharged in December 1996 from the USMC, he joined the Army National Guard with 104th Long Range Surveillance and Reconnaissance. After September 11, 2001, Eric immediately reenlisted with the Army with 1st Brigade 25th Infantry Division Deuce Four Battalion. Over the next 18 years, he served with several different units such as the 82nd Airborne 1st Brigade 501st Airborne Infantry Regiment "Geronimo's". During this time, he was deployed multiple times to Afghanistan and Iraq participating in Operation Iraqi Freedom and Operation Enduring Freedom where he eventually was wounded by an improvised exploding device. SFC Hoover has received numerous badges, medals, and recommendations such as: 3 Bronze Star Medals, Purple Heart, 4 Army Commendation Medals, USN Presidential Unit Citation, Valorous Unit Award, Military Outstanding Volunteer Service Medal, Parachutist Badge, Air Assault Badge, and Master Javelin Instructor. Eric currently resides in Lock Haven with his wife and three kids.
2019 – VETERAN STEPHEN "TURBO" TOBOZ & FAMILY
In March of 2001, Po Toboz served as a member of a 6-man special operations until whose duty was to rescue a captured teammate atopa 12,000 ft. mountain. During this rescue, PO Toboz was hit by an automatic weapon fire shattering his lower leg, which resulted in amputation, PO Toboz is a decorated veteran holding Silver Star of Valor for Operation Anaconda, Purple Heart, Navy Commendation with Valor, 2 Navy Achievement Medals, Combat Action Ribbon, Presidential Unit Citation, Naval Unit Citation, among many others.
In March of 2018, Turbo was diagnosed with stage 3B rectal cancer. He has currently undergone 12 weeks of chemotherapy which will later be followed with 6 week/ 30 sessions chemotherapy and radiation stint in between cancer treatment sessions.
Turbo is training to qualify for the Paralympic Military Standard in the road bicycle time trial in St. Petersburg, FL.
2018 – VETERAN DANIEL STEIN & FAMILY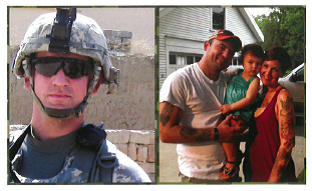 SSG Daniel Stein graduated from Marine Corps basic training at Parris Island in 2000. During his time in the marines, he was deployed to Iraq. In between deployments, Danny was employed as a private security guard for the Crescent Security Group based in Iraq. In March of 2009, Danny then re-enlisted into the US Army where he was deployed to Afghanistan as a Platoon SGT in the 10th Mountain Division. Succeeding Army Infantry, he enlisted with the Army Reserves 298th Support Maintenance Division, where he received the 2014 ESC Best Warrior Competition NCO of the Year Award. SSG Stein has many career decorations such as the Bronze Star for Valor, Afghanistan Campaign Medal with Campaign Star, Army Commendation Medal, Iraq Campaign Medal with Campaign Star, USM Good Conduct Medal, Global War on Terrorism Service Medal, Overseas Service Medal, and National Defense Service Medal.
Danny attended the University of Columbia where he received a degree in Environmental Studies. He was married to his wife Misty in 2011 and the following year they were blessed with their daughter, Claire.
2017 - VETERAN SHANE BILLINGS & FAMILY
Shane Billings served in Operation Iraqi Freedom from 2008 to 2009 and Operation Enuring Freedom from 2010 to 2011 with the 2nd Battalion 9th Marine Regiment. He served in Operation Enduring Freedom from 2011 to 2012 with the 2nd Battalion 6th Marine Regiment. Billings was wounded by an IED while setting up a night ambush in January of 2012 and had 14 surgeries to salvage his right foot. In February 2013, his foot was amputated. Billings' personal awards are Purple Heart Medal, Navy Achievement Medal w/ Combat Distinguishing Device, Combat Action Ribbon, Marine Corps Good Conduct Medal, National Defense Service Medal, Operation Enduring Freedom Campaign Medal, Global War on Terrorism Medal, Sea Service Deployment Ribbon, and NATO ISAF Medal.
Billings is a Junior history major at Penn State University and plans to become a historian. He enjoys spending time at the gun range with his family and raising his son.
2016 – VETERAN SHAWN SOMITS & FAMILY
Shawn Phillips Somits served in the US Army during Operation Iraqi Freedom in Iraq and Kuwait. While serving he received Army Commendation Medal, Army Achievement Medal, Army Reserve Components Achievement Medal, National Defense Medal, Global War on Terrorism Expeditionary Medal, Armed Forces Reserve Medal, Noncommissioned Officer's Professional Development Ribbon, Army Service Ribbon, Army Reserve Components Overseas Training Ribbon and Parachutist Badge.
Shawn worked at Allenwood Federal Prison for 10 ½ years as a corrections officer and was a member of the Disturbance Control Team there. He was an avid turkey hunter and was a member of the NWTF. He was also a member of the Edward J. Smith Post 3428 VFW. Shawn was a coach for Muncy youth football and Muncy AYSO.
Surviving in addition to his wife and parents are one son, Wesley Somits and a daughter, Faith Somits.
2015 – VETERAN DAVID COLLINS & FAMILY
David Collins enlisted in the US Navy in 1988 and served on the USS Independence during the Gulf War. In 1991, he successfully completed his dive school and was assigned to SEAL Delivery Vehicle Team TWO at Naval Amphibious Base Little Creek. He then graduated Basic Underwater Demolition training with BUD/S class 203. Upon graduation he reported to SEAL team FOUR where he completed 3 deployments to South America. He then transferred to SEAL team TEN where, as a plank owner, completed deployments to Afghanistan and Iraq. Collins received the Bronze Star for his service in connection with being a primary tactical shift leader for the Prime Minister of Iraq and directed over 300 high-risk movements throughout the Middle East.
Collins was awarded with Joint Service Medal, Navy & Marine Commendation Medal w/ Valor, Army Commendation Medal, Navy & Marine Achievement Medal, Combat Action Medal, and Navy Good Conduct Medals.
2014 – VETERAN ADAM HARTSWICK & FAMILY
Sgt. Adam Hartswick, a US Army Combat Medic from State College, PA, was wounded in an IED attack on May 14, 2013. He lost both of his legs and sustained serious injuries to his right hand. Adam did not, however, lose his spirit.
After our event on September 13th, Adam donated his $10,000 proceeds that were raised from the tournament to Edward "Flip" Klein; a veteran whom Adam felt needed the financial assistance more than he did.
2013 – VETERAN WADE MITCHELTREE & FAMILY
SFC Wade Mitcheltree was enlisted in the US Army during high school. Wade spent several years at Fort Bragg and Fort Richardson prior to being deployed overseas. He served in three tours, one in Iraq and two in Afghanistan. On August 31, 2012 near Kandahar, Afghanistan he was severely injured by an IED. He lost his right leg above the knee along with his right arm below the elbow.
Wade and his family currently reside in Oregon in their adaptive smart home funded by the Gary Sinise Foundation.
2012 – PA WOUNDED WARRIORS, INC